Today I'm sharing some easy diy art I made that could easily be used for Valentine's day or just as some cute art in a room or nursery.
I saw this and was inspired to recreate my own version.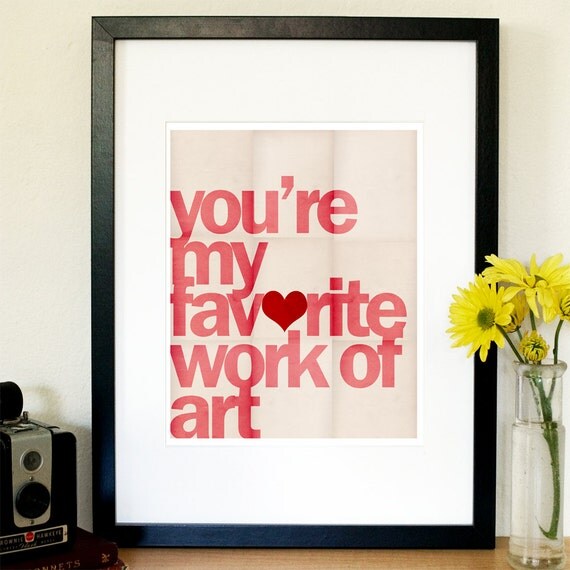 (source)
This is from a very adorable Etsy shop called LuLuPaperie. Lots of cute typography. Go check it out. I'll wait.
Okay? Ok. First, I took some art from a Goodwill frame that I was using elsewhere anyway.
It was a nice sturdy piece of cardboard with a copy of a painting that I was never going to miss, and SCORE it even had some nice thick matting around it.
I ripped out some pages from a Goodwill children's book. Seriously, worst children's book ever. I did not feel bad at all tearing this apart.
I chose some pages that were mostly words, but also had some black and white pictures on them and glued/modpodged them onto my board.
I mixed up some paint so I could create an ombre effect with the words going from light to darkest pink. Do you love my fancy paint tray?
Then I simply painted the words "you're my favorite work of art" using the different paint colors. I also painted the mat around the outside. I tried to have streaks of the different colors, but mostly it's just pink. And yes, there's a heart in the bottom corner.
Here's how it turned out.
I wish I had mixed up more of each shade of paint so I could have gone back over the words to make them a little darker. But it was an easy FREE project I was able to make in a night and I'm happy with how it turned out.
Thanks for being here!